Now available in the UK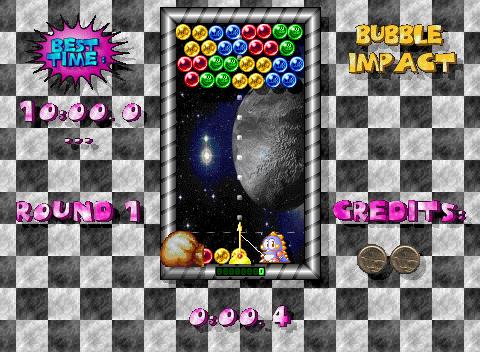 Owl-Art Un-Ltd. have now acquired the UK distribution rights for "Bubble Impact" by the Moving Pixels team. This means that UK users can buy the game without having to worry about changing their money into German Deutschmarks, or about sending cash through the post.
Bubble Impact is a fast moving arcade-style game. You must clear the screen of bubbles by firing extra coloured bubbles up to the top of the screen. If there are more than two of any colour bubbles adjacent to each other they will explode and fall off the bottom of the screen. The more bubbles you can cause to fall down, the more you score!
Bubble Impact has been improved to give faster game play and a new "Challenge" game-mode. The updated demo game is available to download from the Acorn Arcade website.
Note: Bubble Impact requires an Acorn RiscOS RiscPC or later (eg. A7000, RiscStation, Mico, Omega) to run.
The full version of the game, which has 100 levels, more background graphics, saveable scores and a two-player (human vs. human) mode is available from Owl-Art Un-Ltd. by sending a cheque or postal order payable to "A.M.Conroy" for £5.00 to:

Owl-Art Un-Ltd.,
F3, 25 Salisbury Road,
Worthing,
West Sussex,
BN11 1RD
U.K.

Please state whether you have downloaded the demo version (which can then be unlocked), or whether you require the full game to be sent on disc.
If you have any queries please get in touch with us at the above address, or by email
---
Web page design by

Owl-Art Un-Ltd. supports