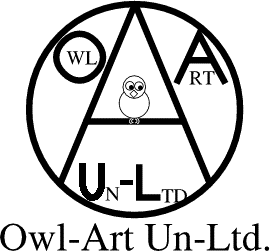 Welcome to Owl-Art Un-Ltd.'s web pages.

Owl-Art Un-Ltd. is a small design and Desktop Publishing house offering a range of services at very competetive rates. Using state of the art RISC OS computers, Owl-Art will undertake everything from creating a digital copy of an existing logo to full design and print of full colour pamphlets. No job is too small or too taxing.
Owl-Art has also developed various software utilities ranging from NFER Educational Assesment Test marking programs to adapted versions of the original BBC Micro game, Kingdom! Owl-Art is also the sole UK distributor of the game Bubble Impact!
Click the buttons down the left hand side of the page to learn more about Owl-Art Un-Ltd. or to contact us to discuss your requirements.

See our new RiscPC/A7000 External Reset Switch

---

---
Web page design by

Owl-Art Un-Ltd. supports